MS (Mudsucker) Models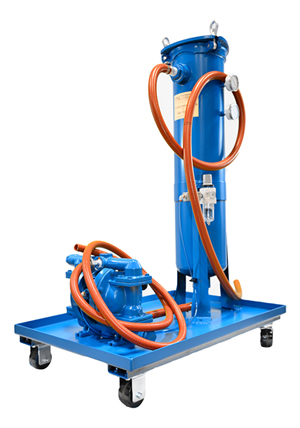 The FilClean™ MS (Mudsucker) filter cart is designed to perform exactly as the name entails. It is used to suck out settled contaminant and sludge from the bottom of dirty fluid sumps or spill containment berms. For further flexibility it can also be used as a portable kidney loop filtration system.
Typical Applications
Machine Tool Coolant Sumps
Aqueous Based Wash Solution Sumps
Straight Cutting Oil Sumps
Hydraulic and Lube Oil Containment Spill Berms
The FilClean™ MS is simple, durable and designed to filter high solid content fluids such as machine tool coolants and cutting oils. the FilClean™ MS will vacuum dirty fluids and contaminants directly from the bottom of fluid sumps and return them, cleaned, back to the machine or a waiting transfer tote or drum for use somewhere else.
The high quality air diaphragm pump is protected by the large filter housing which can be supplied with a variety of bag filter choices or even a magnet filter for prefiltration. The air diaphragm pump is not damaged if it is run fully dry which makes it an ideal choice for fluid sump cleaning.
The FilClean™ MS reduces the requirement for machine tool operators and maintenance personnel to rake or shovel chips or sludge from machine tool coolant and other fluid sumps!