About PH2oenix
The PH2oenix™ does not use disposable water absorbing filters that require constant changing but instead dehydrates water from the oil using a proprietary maintenance free hollow fiber technology and online miniature vacuum source which have unlimited water removal capability.
The PHoenix™ is extremely portable and compact so can get into spaces normal dehydrators cannot. It also has very few moving parts compared to standard dehydrators, and its set and forget design makes it as simple and easy to use as a filter cart.
The PHoenix™ versatility means that when it is not being used to remove water from contaminated lube or hydraulic systems it can also be used as an oil transfer and or oil filter cart. If supplied with the optional Aquatrex or MTrak moisture monitoring systems then the PHoenix ™ can also become a diagnostic tool for tracking intermittent water ingression into reservoirs and alerting operators of potential problems like worsening seal leaks or cooler leaks.
Ask us about rental opportunities and check out our many industry impact stories!
PH2oenix™ Accessories
PHX-Heater The PH2oenix™ water removal efficiency is increased by higher oil temperature. Online Lube and Hydraulic Systems usually generate enough heat on their own for adequate water removal however stagnant cold oil can take longer to dehydrate. In this case the PHX-HEATER can help speed things up when time is an issue. The single phase 110/220V portable heater is meant to be installed inline with the PH2oenix™ Purifier to aid in increasing oil temperature and water removal efficiency when needed.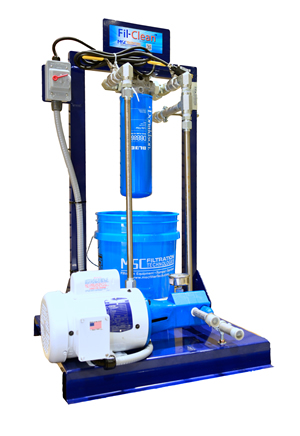 FilClean™ SHD Filter Skid For Use With PH2oenix™ Mini The FilClean™ SHD (Skid/Heavy Duty) is built to offer the customer permanent particulate filtration kidney loop on their small gear boxes and other lube or hydraulic systems but also the added benefit of quick connect free, emulsified and dissolved water removal using the MSC PH2oenix™ handcarry mini membrane dehydrator.
The FilClean™ SHD skid is built with lube and hydraulics tough applications in mind such as outdoors on the roof of cooling towers for gear box purification where a corrosive wet ambient environment can exist.
Learn More about the FilClean™ Filter Cart
Models Available
PH2oenix™ Mini, C, C4 and C8 NEMA 4 Electric Membrane Oil Dehydrators
The MSC Filtration Technologies line of PH2oenix™ Membrane Oil Purifiers is a revolutionary way to tackle water and particulate contamination in small to medium sized gear boxes, hydraulic systems and lube oil systems of between two to two thousand gallons. Size dependent on oil type, oil temperature and water ingression rate. The PH2oenix™ is the worlds' first filter cart and membrane oil dehydrator combination and is as simple and easy to use as a normal filter cart but without the need to replace costly water removal elements. It uses a robust and durable hollow fiber membrane bundle and an on board vacuum source to remove free, emulsified and dissolved water from oil down to less than 50 ppm.
PH2oenix™ X Series Oil Puifiers For Use In Hazardous Duty Environments of Class 1 Group C&D Areas
The PH2oenix™ X series of membrane oil dehydrators has been specifically designed to be used in areas such as refineries, gas plants and oil rigs where class 1 group C&D electrical requirements are needed. They are perfect for removing water and particulate contamination from small to medium sized compressors, turbines, gear boxes and hydraulic systems. The PH2oenix™ X Series purifiers come in three different versions depending on what type of customer utilities are available. These three versions are as follows.
PHoenix™ CX Series: Electric & Compressed Air PH2oenix™ X Utilizes a Class 1 Group C&D rated fluid pump and electric wiring and on/off switch along with a compressed air driven maintenance free vacuum venturi to generate vacuum for water removal.

Utilities Required


110/220 V Single Phase Class 1 Goup C&D
Compressed Air 75-85 psig at 13 SCFM.



PH2oenix™ XA Series: All Compressed Air Driven PH2oenix™ XA
To be used in areas where single phase electric is not readily available but compressed air is. The PH2oenix™ XA is completely compressed air driven utilizing a compressed air driven fluid pump motor and a maintenance free vacuum venturi to generate vacuum for water dehydration and removal. This unit is variable flow of up to 8 gpm (oil viscosity and compressed air availability dependent). Utilities required is oil free compressed air (does not have to be instrument grade) at 75-85 psig at between 13 and 50 SCFM)

Utilities Required


Compressed Air 75-85 psig at 20-50 SCFM PHoenix™ model and flow dependent.



PHoenix™ XE Series: All Single Phase Electric PH2oenix™ XE The PHoenix™ XE is designed to be used in hazardous duty areas where there is no or limited compressed air availability. It utilizes all Class 1 group C&D electric components including an electric fluid pump and a Class 1 group C&D rated vacuum pump to generate vacuum for water removal.

Utilities Required


110/220V Single Phase Class 1 Group C&D. Amp draw less than 12 amps.