MSC's OilSep Operational Video
MSC Filtration Technologies
OilSep Tramp Oil Separators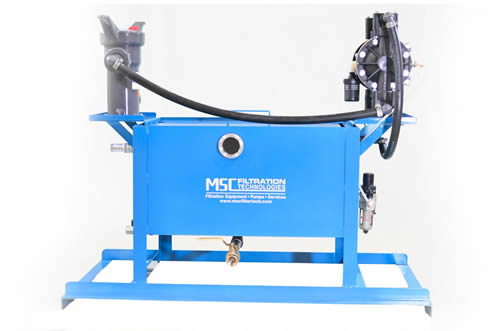 Tramp Oil Contamination in Machine Tool Coolant Sumps is a major cause of:
Reduced Coolant and Aqueous Cleaner Life
Increased Operator Exposure to Odor and Bacteria
Increased Coolant Disposal
Increased Machine Down Time
MSC Filtration Technology exclusive line of OilSep Tramp Oil Separators are manufactured with the following features in mind.
Permanent or Portable - All models can be built as permanent or portable versions.
High Quality Steel Construction - Carbon Steel Standard with Stainless Optional for Aqueous Parts Cleaners.
Compact Footprint
Minimal Coolant Waste compared to skimmers that can separate coolant along with tramp oil.
Maximum Tramp Oil Removal - Floating Suction moves around sump compared to fixed skimmer belts.
Simple Design - No Internal Moving Parts
Low Operating Cost - No replaceable parts with Minimal Utilities 50 psig Air @ 3 cfm max.
Variety of Flows: 2.5 - 5 gpm standard Other Flows Optional.
Variety of Coolant Sumps: Up to 500 gallons standard others optional.
The OilSep Tramp Oil Separator comes standard with all the components necessary for operation including a floating suction, inlet and outlet hoses, inlet 40 mesh cleanable strainer and air diaphragm pump mounted for easy installation and immediate operation on your sump. Contact MSC Filtration Technologies or fill out and submit our online coolant questionnaire and our engineering staff will be glad to help choose the correct product for your application.
Models Available
Download Literature