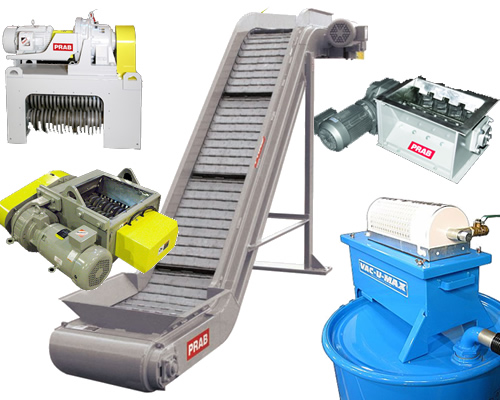 Chip Processing & Handling
MSC Filtration Technologies is a representative of PRAB Conveyors, Chip Wringers, Shredders and Crushers along with VAC-U-MAX vacuum systems. MSC, PRAB and VAC-U-MAX together have over 150 years of combined machine tool waste handling experience.
Although we have standard equipment designs available, our engineers and manufacturing staff are also trained to listen to what you need and then develop an idea that makes the best economical and technical sense for your application. Together MSC, PRAB and VAC-U-MAX are able to handle just about any chip, scrap, handling waste reduction and liquid removal application you have.
Waste Reduction - Storage & Handling
Contact MSC Filtration Technologies for Price & Availability
---
---
---
---
---
---
Chip & Scrap Conveyors-Coolers-Feeders
Contact MSC Filtration Technologies for Price & Availability
---
---
---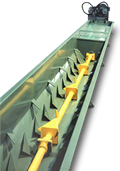 Contact MSC
PRAB In-Floor Trough Conveyors
Quiet, Efficient Transfer of Steel, Brass, Cast Iron and Aluminum
These workhorses transfer all types of metal chips, fines and turnings, wet or dry bushy wads and tramp metal solids with time and energy saving efficiency. Their liquid tight trough construction is ideal for high-volume coolant flow applications.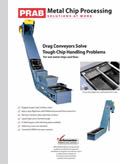 Handle Severe-Duty, Highly Abrasive Metal Chips, Fines, Swarf and Materials
Every part of this rugged drag conveyor unit is designed for severe duty so you can convey and elevate your most difficult, most abrasive wet or dry materials. The heavy-duty, abrasion-resistant flight bars feature an exclusive bolt-free connection so they stay strong under grueling conditions. The abrasion-resistant steel press-formed trough used in our drag conveyors is liquid tight. Comes standard with safety covers.
---
---
---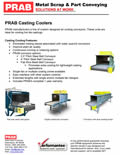 Improve Air Quality Eliminate Misting
With PRAB casting coolers you can eliminate the misting and air quality issues associated with water quench conveyors.
Extended lengths are available with single and/or multiple fan designes. The coolers run continuously or indexing.
FEATURES/OPTIONS
Easy interface with other system controls
Optional flat wire mesh belt promotes extra cooling for lightweight casting applications.
2.5" - 4" Pitch Perforated belts are standard with the casting cooler conveyor.

Contact MSC
PRAB Furnace Feeders
Meter Feed Directly To Your Melting Furnace
PRAB's furnace feeders allow you to meter feed abrasive die casting metal scrap directly to your melting furnace.
FEATURES/OPTIONS
Feeds both reverbs and "through-the-wall" designs.
Standard design incorporates oscillating steel trough plus heat shields and stainless steel discharge chutes extended into melt area.
May be batch loaded or used as final component of a complete scrap-to-remelt system.
Easily replaceable stainless steel trough extension and heat shield.
Mobile/traversing systems available.
Sound-proofing available.
---
Metalworking Shop Vacuums
---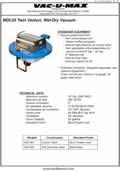 Contact MSC
VAC-U-MAX Model MDL55
Liquid Recovery/Transfer Tank Kit
This MDL55 unit features the lowest compressed air consumption on the market today, only 35 SCFM @ 60 PSIG! They are designed to increase plant efficiency and improve overall productivity. The VAC-U-MAX tank systems save time, money and are easy to operate.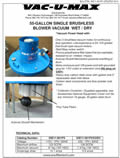 Liquid Recovery/Transfer Tank Kit
The VAC-U-MAX tank vacuums are a unique industrial vacuum cleaner system designed for high-speed transfer of various liquids directly into a closed top 55-gallon drum. They can operate on plant compressed air or single phase electric and provide high suction that offers recovery rates at better than one gallon per second. These units are compact and fit directly on the holes of a closed top, vacuum tight, 55 gallon drum.
---
---
Request Info